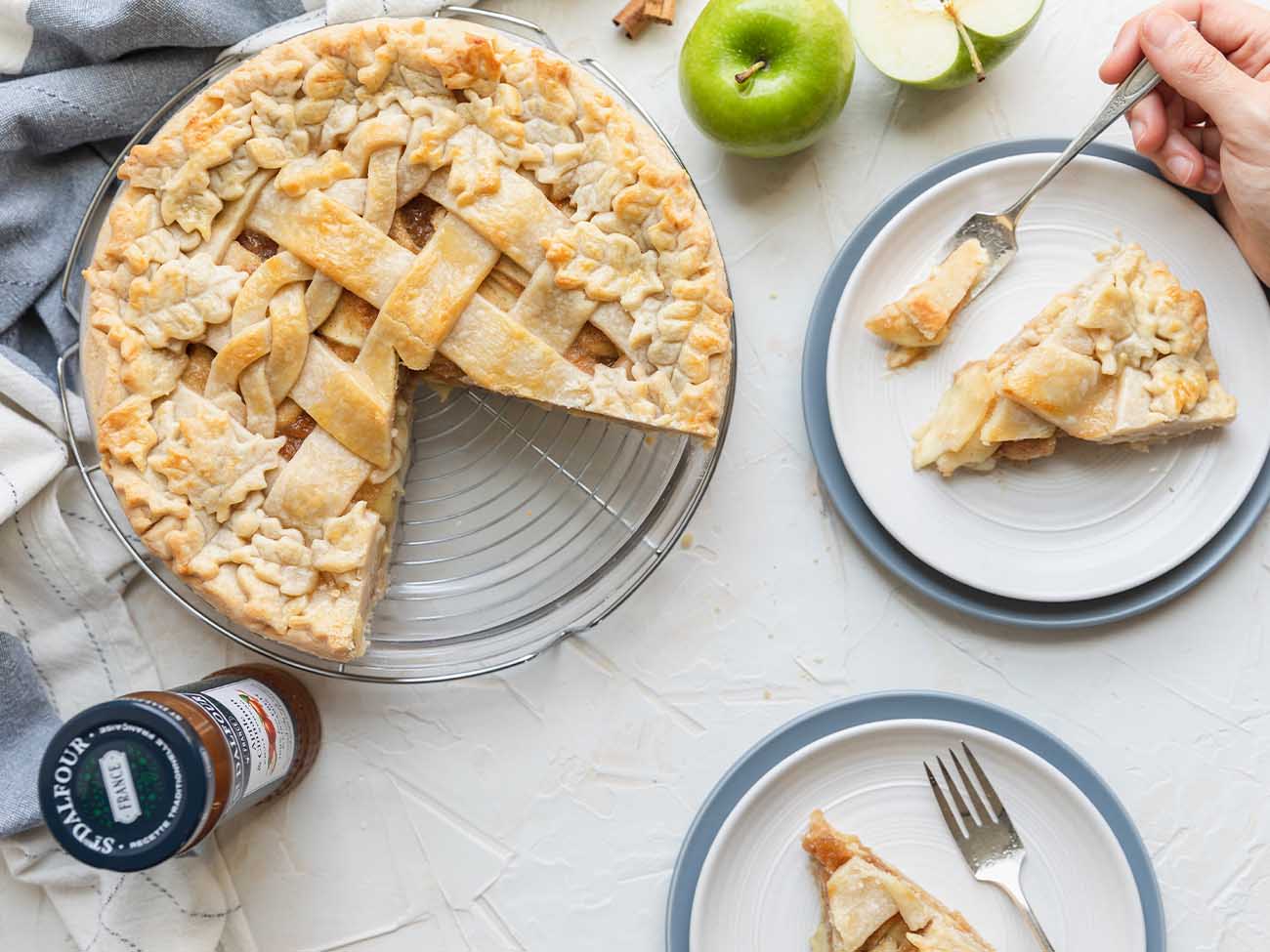 YIELD: 9 - IN PIE
PREP TIME: 45 minutes
COOK TIME: 50 minutes
ADDITIONAL TIME: 1 hour
TOTAL TIME: 2 hours 35 minutes
INGREDIENTS
Crust:
3 3/4 C all - purpose flour
3 Tbsp granulated sugar
1/2 tsp salt
1 c cold butter, in cubes
1/2 C cold shortening , in pieces / spoonfuls
6 Tbsp ice cold water
Filling:
6 C Granny Smith apples, thinly sliced, peeled, and cored (about 5 apples)
1/2 C granulated sugar 1 tsp cinnamon
2 Tbsp breadcrumbs
1 Tbsp bourbon (may be replaced with rum)
1 tsp Vanilla extract
1 jar St. Dalfour Apple & Cinnamon Fruit Spread
1 Tbsp unsalted butter, for dotting
1 egg plus a dash of milk for egg wash
INSTRUCTIONS
Crust:
Mix flour, sugar, and salt until well combined
With a food processor, begin pulsing together all ingredients (except water) in 3 second increments and gradually adding the ice-cold water, one Tablespoon at a time, just until it resembles coarse crumbs but hold together when squeezed.
Keeping everything as cold as possible and not over working your dough with your hands, form 2 disks and wrap them tightly with plastic wrap; refrigerate for 1 hour or up to 3 days
Flour a work surface and roll half of your dough with a rolling pin to 1/6 " thickness and into a 11–12-inch circle
Gently, roll your dough into your floured rolling pin and transfer intoyour pie plate, unfolding into the center, until plate is completely covered. Trim the excess dough from the sides of your plate. Refrigerate while preparing your pie filling and lattice
Filling:
Pre-heat your oven to 375º F
Mix sugar, salt, and breadcrumbs until well-combined. Add mixture to your apple slices together with vanilla extract, bourbon and fruit spread; mix until apples are well covered. Refrigerate while doing the lattice.
Roll your remaining dough and use a pizza cutter to cut even strips for the lattice, as well as cookie cutters for the leaves
Spoon your filling into your crust covered pie plate with a slotted spoon, to drain the excess liquid
Moisten the edges of your bottom crust with egg wash and start making your lattice using your strips and leaves. Cut the excess dough from the sides of your plate and brush your lattice with egg wash and sprinkle with sugar if desired.
Place pie in a foil-covered baking sheet on the lowest rack of the oven. Bake for 30 minutes; if it's browning too fast, cover the edges with aluminum foil or a pie crust shield and bake for an additional 15 minutes or until golden brown. Let cool over a wire rack for 2-3 hours and serve with whipped cream or vanilla ice cream!
Notes:
• Crust may be made up to 3 days before using and kept refrigerated. Let it warm to room temperature for 10-20 min prior to using.
• You may freeze the dough for up to 1 month. Thaw in the fridge for 24 hours and let it warm to room temperature for 10-20 min prior to using.
• Bourbon may be replaced with rum