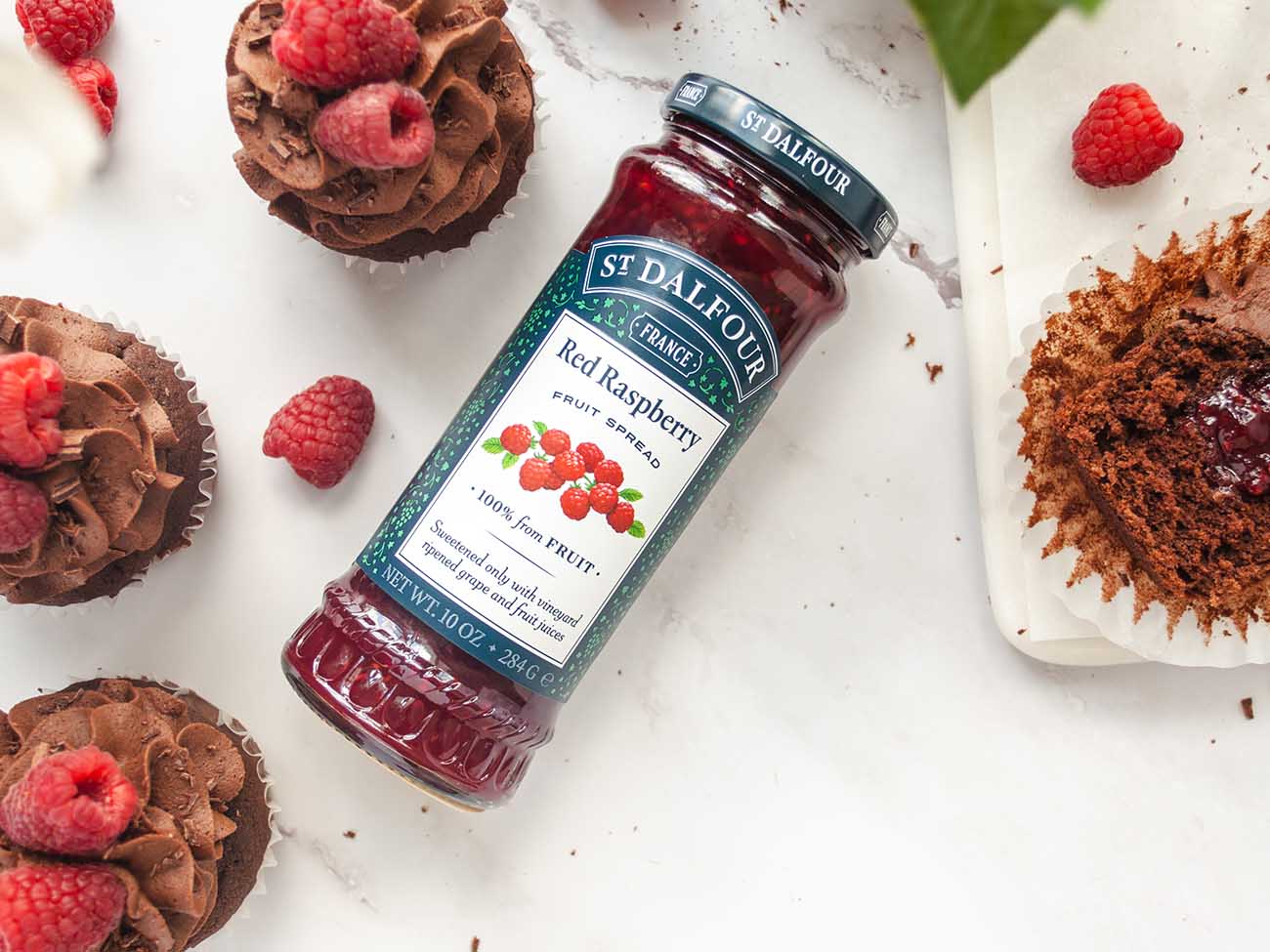 PREP TIME: 45 MINUTES
COOK TIME: 13 MINUTES
TOTAL TIME: 58 MINUTES
INGREDIENTS
Cupcakes:
1 C unsalted butter, room temperature
1 1/2 C granulated sugar
4 eggs, room temperature
1/2 C sour cream
2 1/2 All-purpose flour
3/4 C cocoa powder
1 1/2 baking soda
1/2 baking powder
1/2 tsp salt
1 C full-fat milk, warm
2 tsp instant coffee powder
1 tsp vanilla extract
St. Dalfour Red Raspberry fruit spread
Fresh raspberries for garnish
Shaved chocolate for garnish (optional)
Chocolate Buttercream
1 C unsalted butter, room temperature
3 1/2 C powdered sugar, sifted
3/4 C cocoa powder, sifted
6 Tbsp heavy cream (more if needed)
3/4 tsp salt
2 tsp vanilla extract
1/2 tsp instant coffee, diluted 1n 1 Tbsp warm water
INSTRUCTIONS
Cupcakes
Pre-heat oven to 400º F. Line cupcake tins with cupcake liners and set aside.
Mix your flour, cocoa powder, baking soda, baking powder, salt and set aside. Mix warm milk and instant coffee and set aside.
Beat butter and sugar until light and fluffy, about

1 ½

minutes, add eggs, one by one, beating after each

addition. Add vanilla and sour cream and mix until combined.
Alternate milk mixture and dry ingredients, finishing with dry ingredients and beating until well incorporated.
Fill prepared cupcake tins 2/3 full; bake for 5 minutes, reduce temperature to 350º F and bake for an additional 8 minutes, or until a toothpick inserted in the middle comes out clean. Remove cupcakes from tins as soon as they're out of the oven to prevent cupcake liners from peeling away. Let them cool completely over a wire rack before filling.
Using a melon baller, a pairing knife or a cupcake corer, scoop or core the center of the cupcake and fill with St. Dalfour Red Raspberry Fruit spread using a piping bag. Press some of the scooped cupcake on top to cover the hole.
Chocolate Frosting
Beat butter until creamy, about 1.5 minutes. Add powdered sugar, diluted coffee, cocoa powder, cream, salt and vanilla extract. Beat on lowest until just incorporated, then beat on medium-high speed for 2 more minutes, until light and fluffy.
Pipe chocolate frosting over the filled cupcakes, sprinkle with shaved chocolate and top with 2 fresh raspberries each.
Enjoy!