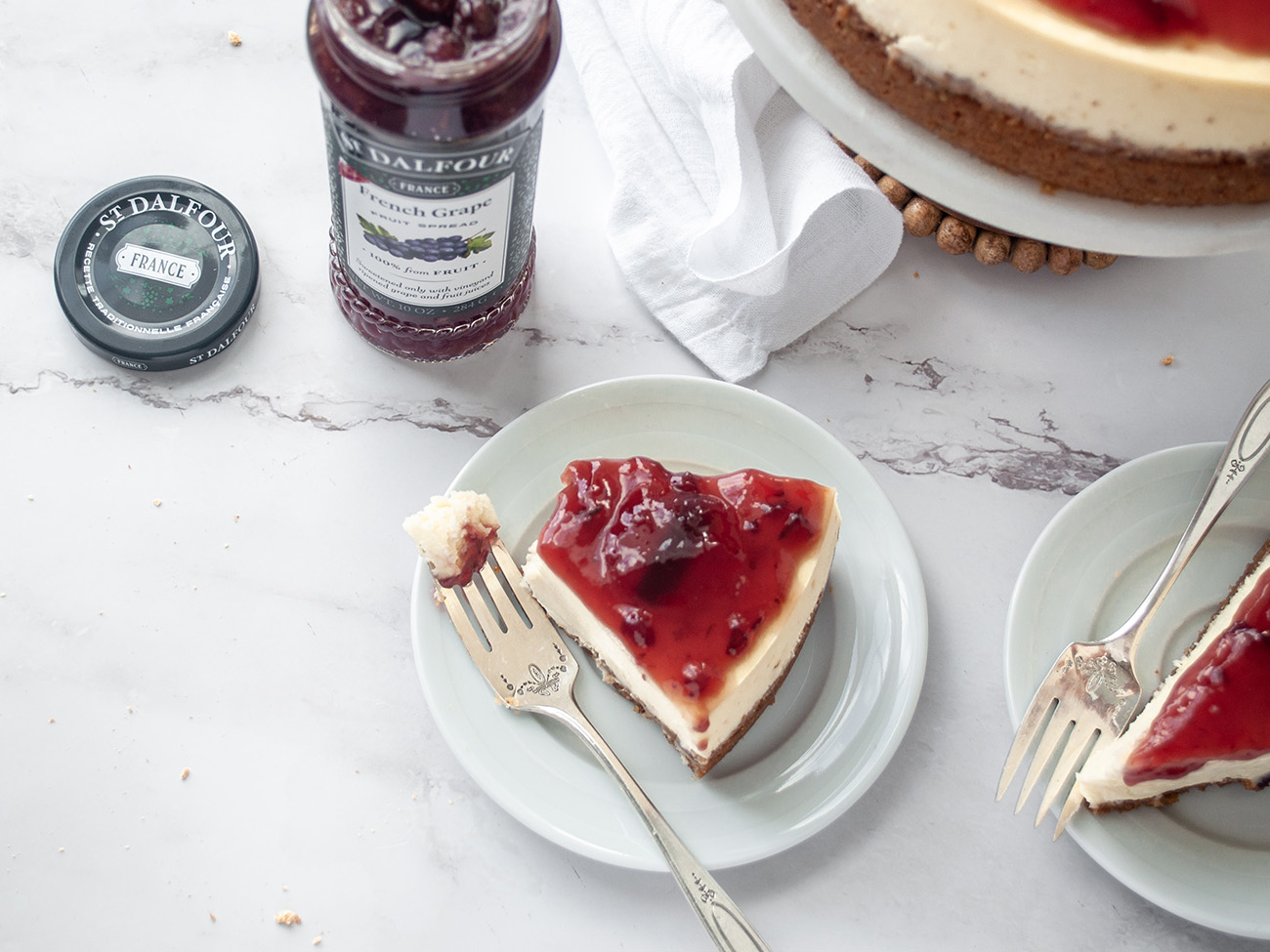 PREP TIME: 45 MINUTES
COOK TIME: 1 HOUR 30 MINUTES
TOTAL TIME: 2 HOURS 15 MINUTES
INGREDIENTS
Crust:

1 1/2 C graham cracker crumbs (12 graham crackers)
7 Tbsp unsalted butter, melted
1/2 C ground walnuts
1 tsp vanilla extract
Zest of 1 lemon




Cheesecake

12 oz goat cheese, room temperature
16 oz cream cheese, room temperature
1 Tbsp vanilla extract
1 C granulated sugar
4 eggs, room temperature
1 1/2 C sour cream, room temperature
3 Tbsp

 

our
INSTRUCTIONS
Pre-heat oven to 400º F. Grease a 10-in Cheesecake pan with oil and line the bottom with parchment paper, cutting a circle a bit larger than the base of your pan. Cover the sides of your pan to the top with aluminum foil to prevent water from seeping in when baking your cake in a water bath
Mix all your crust ingredients and press firmly into the bottom of your prepared pan. Bake for 10 minutes and set aside. Reduce your oven temperature to 325º F
Beat cheeses, sugar and vanilla extract on medium speed for 1 1/2 minutes. Do not turn your speed to high or air will become incorporated into your batter.
Add sour cream and beat until just combined. Add eggs, one by one, beating after each addition. Add flour and mix.
Pour cheesecake batter over pan and tap pan against counter to release all air bubbles. Place your cheesecake inside a 9x13 inch pan and fill the pan with water less than halfway up the sides of your cheesecake pan
Place your cheesecake on the middle rack of your oven and bake for 1 hour and 20 minutes; your cheesecake is done when the edges of the cheesecake are well set and the middle is set but still jiggly. Turn off the oven and leave your cheesecake to cool inside for one hour, with the oven door slightly ajar (you can place a wooden spoon or something similar to keep it open)
Place over a wire rack, run a knife around the rim to loosen it (leaving the rim on) and let it cool to room temperature for one more hour. Cover with foil and refrigerate for at least 4 hours or overnight. Remove the rim and spread your French Grape Spread on top of your cooled cheesecake
Enjoy!