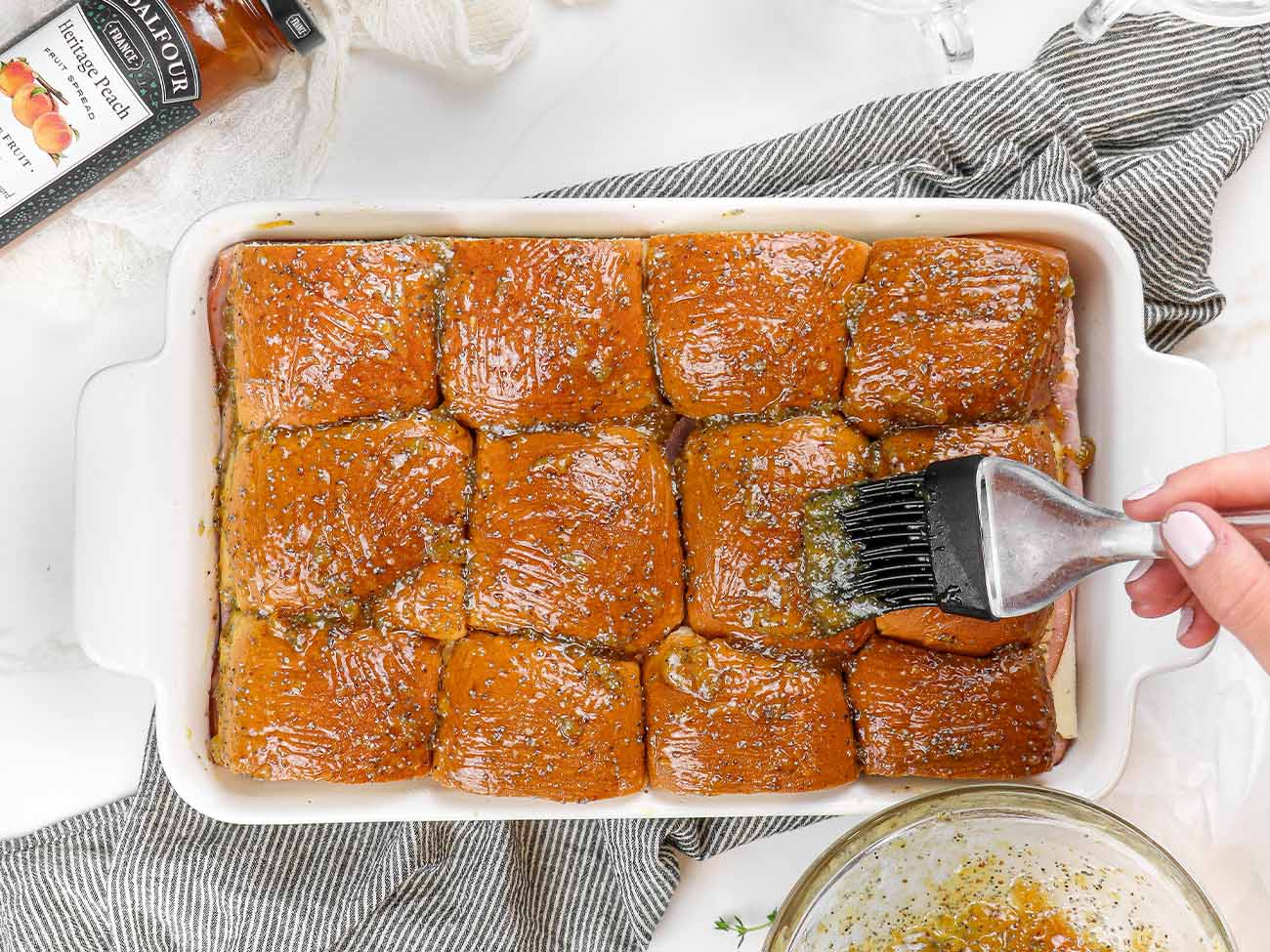 SERVINGS: 12
PREP TIME: 10 MINUTES
COOK TIME: 25 MINUTES
TOTAL TIME: 35 MINUTES
INGREDIENTS
1 12-count package Hawaiian Rolls
3/4 lb. Ham, cooked, thinly sliced
3/4 lb. Swiss Cheese, thinly sliced
1/4 cup St Dalfour Golden Peach
2-3 tsp. Spicy Brown Mustard
1 tsp. Extra Virgin Olive Oil
1 tsp. Poppyseeds
1/2 tsp. Black Pepper
1/4 tsp. Salt
INSTRUCTIONS
Preheat oven to 350F. Line a 9x9" or 9x13" pan with aluminum foil, then lightly grease with olive oil or butter.

Using a large, serrated knife, slice the rolls in half so that you have two slabs (one for the tops and one for the bottoms).

Place the bottoms slab of rolls into the prepared pan.

Add an even layer of half of the ham over the rolls.

Add an even layer of the swiss cheese.

Add the remaining ham in an even layer.

Add the tops slab of the rolls.

To make the glaze, simply mix the gold peach fruit preserve, olive oil, mustard, poppyseeds, black pepper and salt.

Brush all the glaze over the top layer of the rolls, then cover with aluminum foil.

Let the rolls sit at room temperature for 5-8 minutes, then bake covered for 20 minutes.

Uncover and bake an additional 5 minutes.

Slice into individual sliders and enjoy warm!
Enjoy!