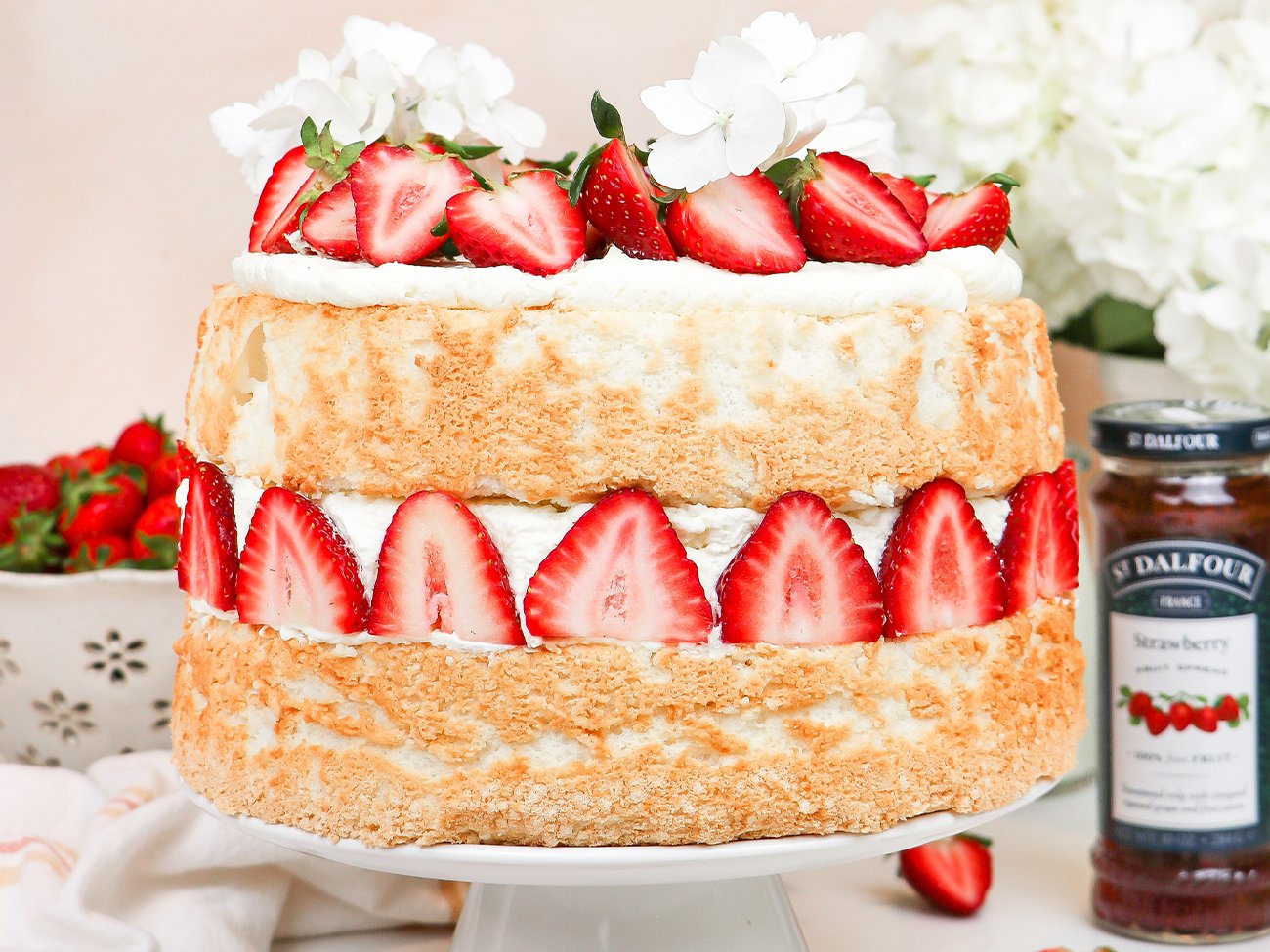 INGREDIENTS
Angel Food Cake:
1 1/2 cups Granulated Cane Sugar
1 cup Cake Flour
1/4 tsp. Salt
12 large Egg Whites, room temperature
1 1/2 tsp. Cream of Tartar
2 tsp. Vanilla Extract
Frosting:
1 cup Heavy Whipping Cream, cold
2 tbsp. Confectioners' Sugar
1 tsp. Vanilla Extract
(Optional) 1/4 tsp. Almond Extract
Filling:
1/2 cup St Dalfour Strawberry Fruit Preserves
Fresh Strawberries, for decorating (optional)
​
INSTRUCTIONS
For the Cake: Preheat oven to 325F. If needed, adjust the oven rack to the lower middle position.
In a food processor or high-speed blender, pulse the sugar until fine and powder-like consistency. Remove and set aside 1 cup of the sugar.
Add the salt and flour into the blender with the remaining sugar (that is not set aside). Pulse four more times until light and powdery.
In the bowl of a stand mixer with the whisk attachment, add the egg whites and cream of tartar. Whip on medium low speed until foamy, about 1 minute. Increase speed to medium-high and whip for 5-6 minutes, until soft peaks. Add the vanilla extract and whip for one more minute.
Sift one-third of the flour mixture into the egg white bowl. Gently fold in the flour with a rubber spatula. Fold very slowly and gently to prevent a deflating/dense cake.
Once fully incorporated, add the batter into an ungreased (very important) 9" tube pan. Use the spatula to gently smooth down surface, if needed.
Bake the cake for 40-45 minutes, rotating the cake pan halfway through baking.
Cool the cake upside down on a wire rack for 2-3 hours. Once completely cooled, run a thin knife around the edges for easy removal.
For the Frosting: Simply use a hand mixer of stand mixer fitted with the whisk attachment to whip the heavy cream, sugar, and vanilla extract on medium-high speed until medium soft peaks form, about 3-4 minutes. Frost the cake immediately or cover tightly to chill in the fridge until ready to decorate.

To Assemble/Decorate:

Slice the cake in half lengthwise. Add half of the whipped cream frosting into the center, creating a wall barrier on the edges to help the strawberry fruit preserves from spilling out. Add the strawberry fruit preserve inside the barrier. Add the second layer and the remaining whipped cream on top. Decorate with fresh strawberries and enjoy! Store leftovers in the fridge.