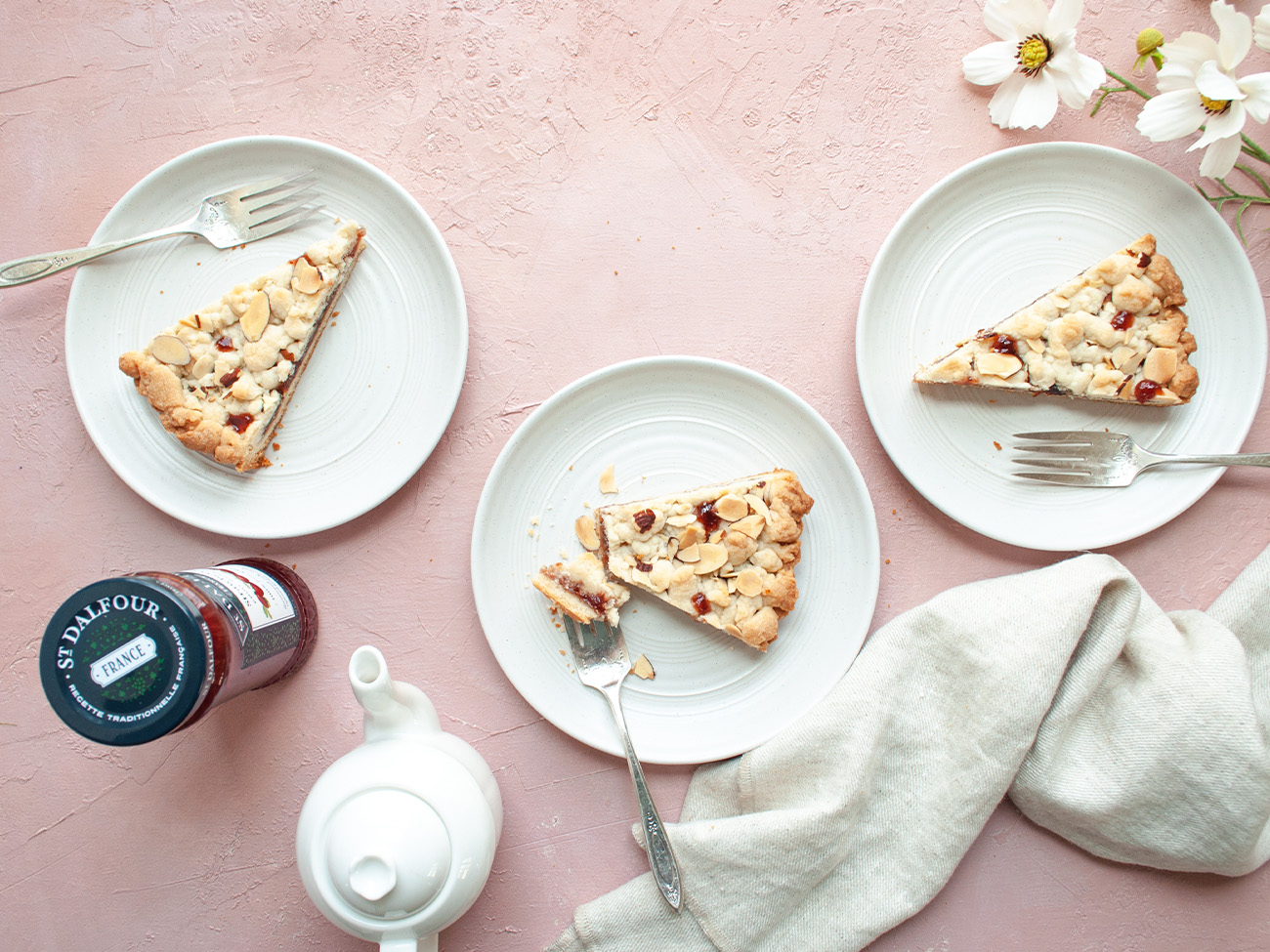 PREP TIME: 30 MINUTES
COOK TIME: 45 MINUTES
TOTAL TIME: 1 HOUR 15 MINUTES
INGREDIENTS
1 C butter, softened
2 C all-purpose flour
1 C powdered sugar
1/2 tsp salt
1 tsp vanilla extract
1 Jar St. Dalfour Strawberry Fruit Spread (reserve 2 Tbsp for garnish)
1/4 C sliced almonds, natural
INSTRUCTIONS
Pre-heat oven to 350º F. Grease a 10-in tart pan thoroughly
Beat butter and sugar together, until light and fluffy (about 1 1/2 minutes). Add vanilla and mix
Mix flour and salt. Add to mixing bowl with butter and sugar mixture, and start mixing at low speed, increase speed to medium and beat until well-incorporated and large crumbles form.
Cut dough in half, wrap half of the dough in plastic wrap and refrigerate. Press the other half of the dough evenly into the greased tart pan to form a bottom crust and bake for 15 minutes, or until it's just beginning to turn lightly golden on top. Remove from the oven and let cool for 5-10 minutes
Add St Dalfour Strawberry Fruit Spread on top of your crust. Remove remaining half of dough from fridge and crumble it with your fingers, sprinkling it on top of your tart until covering it evenly. Add sliced almonds and bake for 30 minutes or until lightly golden on top
Let cool completely. Add bits of your remaining marmalade on top of creases and small holes of your tart for garnish. Slice and enjoy!