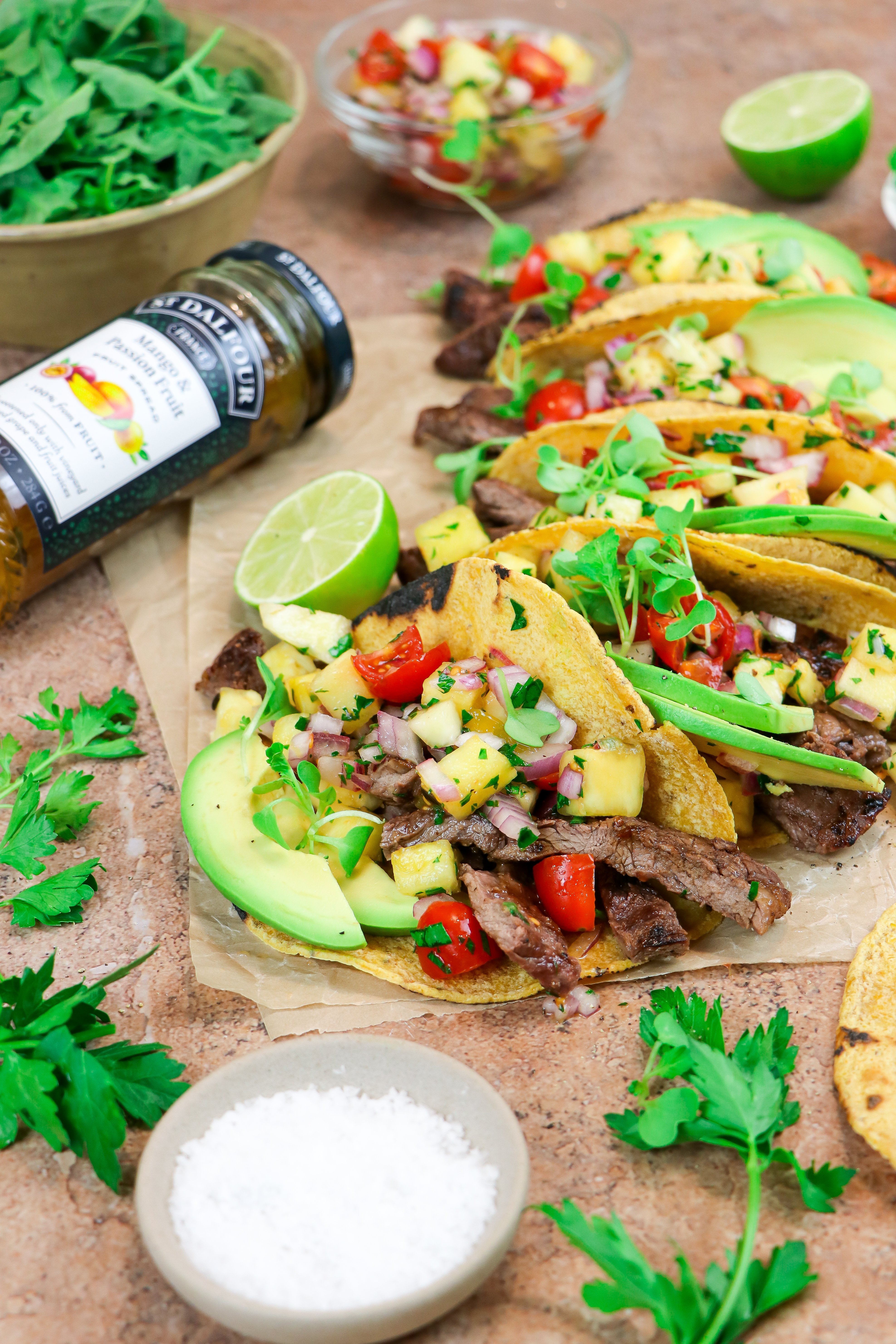 5 Servings
Recipe courtesy of @brightmomentco
INGREDIENTS

For the Steak Marinade: ​​​​​​​​​
1 lb. flank or top sirloin steak​​​​​​​​​
1/4 cup St. Dalfour Mango & Passionfruit Fruit Spread​​​​​​​​
1 tsp. salt​​​​​​​​​
1 tsp. black pepper​​​​​​​​​
Juice of 1 Lime​​​​​​​​​
1/2 TSP garlic powder​​​​​​​​​
​​​​​​​​
For the Pineapple Salsa: ​​​​​​​​​
1/2 red onion, finely chopped​​​​​​​​​
1/2 cup fresh pineapple, finely chopped​​​​​​​​​
1/2 cup cherry tomatoes, quartered​​​​​​​​​
1/4 cup fresh parsley, chopped​​​​​​​​​
2 TBSP. St. Dalfour Mango & Passionfruit Fruit Spread
Juice of 1 Lime​​​​​​​​​
Salt & black pepper, to taste​​​​​​​​​
​​​​​​​​
For the Tacos: ​​​​​​​​​
Corn tortillas​​​​​​​​​
Avocado​​​​​​​​​
Jalapenos​​​​​​​​​
Lime wedges​​​​​​​​​
Cilantro​​​​​​​​​
​​​​​​​​
INSTRUCTIONS
1. If needed, pound the meat out to about 1/4" thickness. ​

2. Add the steak into a large resealable bag. Add all remaining steak marinade ingredients to the bag, seal, then shake until the steak is well coated. Sit a room temperature for 20 minutes.​

3. In the meantime, heat up the grill or a cast iron skillet to medium high heat. If using the cast iron skillet, add olive oil before the steak. Grill the steak for 4-5 minutes on each side. Remove the steak and sit on a cutting board at room temperature for at least 5 minutes before slicing.​

4. To make the salsa, simply toss all ingredients together until well combined. Season with salt and black pepper to taste. ​

5. Serve with corn tortillas, sliced avocado, sliced jalapenos for a little added spice, fresh cilantro, and lime wedges. Enjoy warm!​