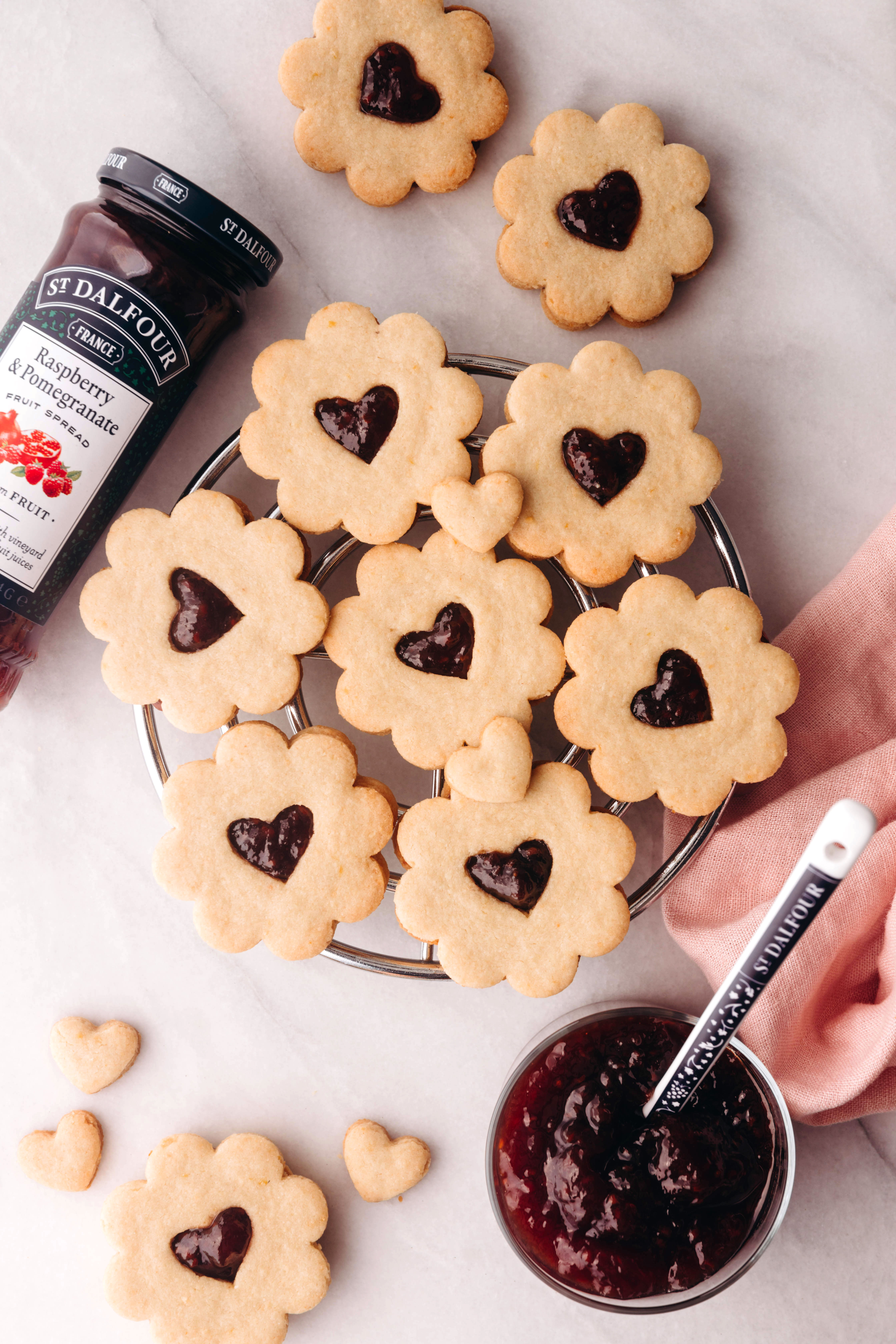 24 Servings
Recipe courtesy of @feastingonfruit
INGREDIENTS
1/2 cup (1 sticks or 113g) butter, softened
1/2 cup (110g) cane sugar
2 TSP vanilla extract
1 1/2 cups (180g) all-purpose flour
3/4 cup (84g) almond flour
Zest of one lemon
1/4 TSP salt
1 jar St .Dalfour Raspberry & Pomegranate Fruit Spread
Optional: 1/2 cup white chocolate chips, melted for dipping/drizzling OR powdered sugar for dusting
INSTRUCTIONS
Using a hand-mixer, beat the softened butter until light and fluffy (about two minutes).

Add sugar and vanilla extract, beat again to combine.

Place a mesh strainer on top of the bowl and measure out the flours and salt. Sift in all together, then add the lemon zest.

Mix on medium speed to form a crumbly dough.

Gently knead the dough into a ball.

Roll out the dough between two sheets of wax paper to about 1/4 inch thickness.

Preheat the oven to 350°F.

Cut out using a linzer cookie cutter–half should be solid cookies, half should have the center punched out.

Carefully transfer cookies to a baking sheet lined with parchment paper.

Bake 9-10 minutes, until golden brown around the edges.

Let them cool 10 minutes on the pan, then transfer to a rack to cool completely.

Flip over the solid cookies, and place a TSP of fruit spread on the center of each.

Top with the cut-out cookies.

Dust with powdered sugar or drizzle with melted white chocolate (optional) before serving.