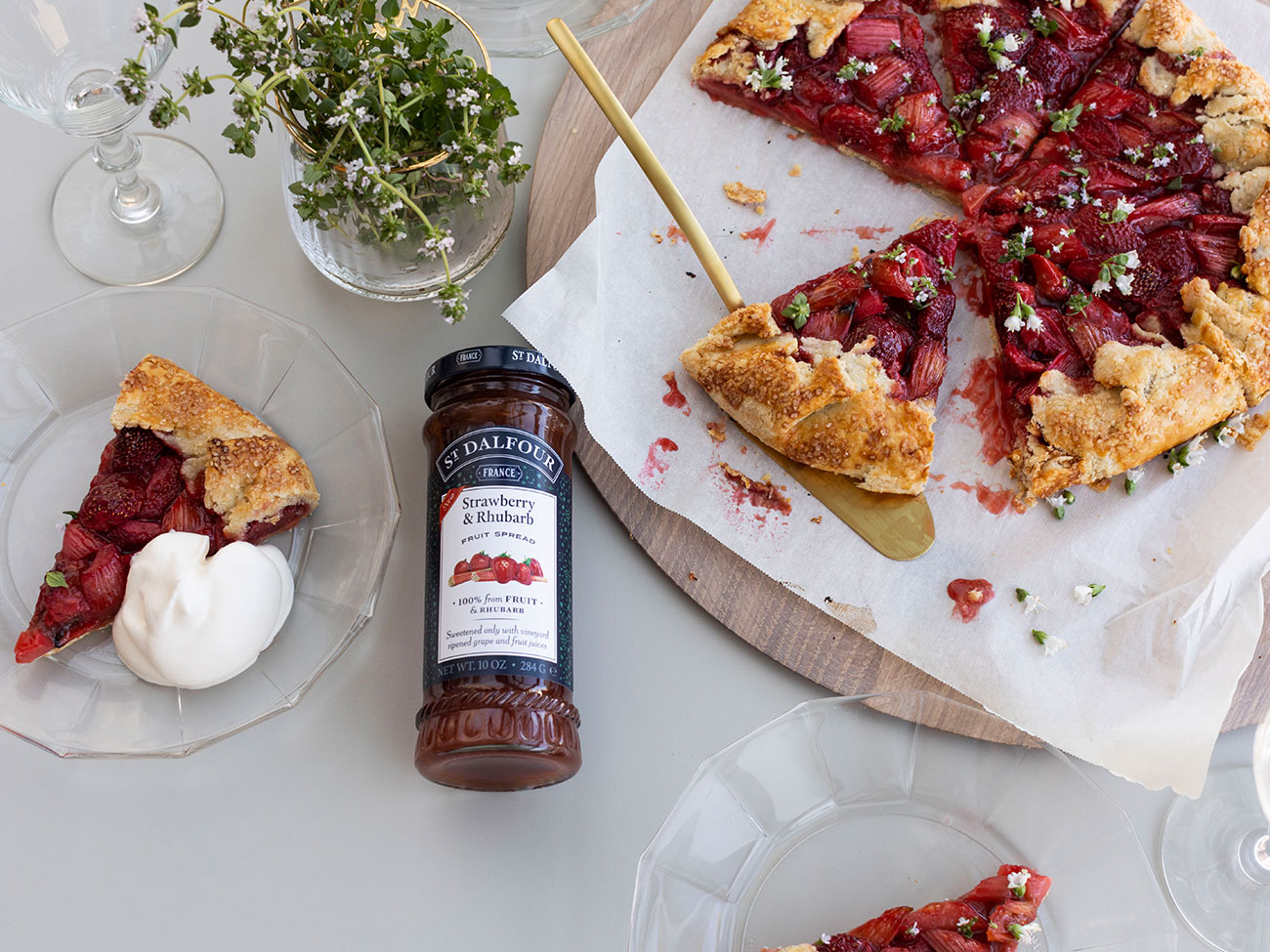 INGREDIENTS
Dough:
1 cup all-purpose flour
1/3 cup buckwheat flour​
3 TBSP sugar​
1 TSP kosher salt​
½ cup (1 stick) unsalted butter, cut into pieces
Filling:
1 ½ cup St. Dalfour Strawberry Rhubarb Fruit Spread
Topping:
1 LB rhubarb, cut into ¾" pieces ​
2 cups of Strawberries (boil down) ​
1/3 cup sugar
1 TBSP lemon juice
Whipped cream​
​
INSTRUCTIONS
​DOUGH
Whisk together all dry ingredient (all-purpose and buckwheat flours, sugar, and salt) in a large bowl. Add butter and work into the dry ingredients with your hands, until you form nickel-size pieces.

Pour ¼ cup ice water over mixture and mix it in with your fingers until evenly dispersed. Squeeze the clumps with your hands to moisten until the dough is formed.

Press dough together, working it into a ball, then flattening it. Pat into a ¾"-thick square. Using a knife, divide dough into 4 pieces. Stack pieces on top of one another and press down to combine. Form dough into a ¾"-thick disk and wrap in plastic. Chill until firm. (2 hours)
FILLING
Preheat oven to 400°F. Roll out dough to a 14" round. Transfer dough to a large parchment-lined rimmed baking sheet.

In a medium saucepan, combine 2 cups of sliced strawberries, 1/3 cup sugar and 1 TBSP lemon juice. Place over medium heat and bring to a boil, stirring occasionally.

Cut 1 LB rhubarb into ¾" pieces.

Spread St. Dalfour Strawberry Rhubarb Fruit Spread over the dough leaving a 2" border around edges.

Top the fruit spread with boiled down strawberries, and rhubarbs.

Fold dough up and over filling, overlapping slightly. Brush dough with egg and sprinkle dough and filling generously with sugar.

Bake galette until filling is bubbling and crust is deeply browned, 40–50 minutes.

Let cool and serve with whipped cream.

Enjoy!